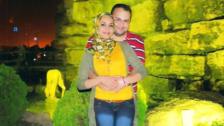 An Iraqi translator who worked extensively with the US military spent almost seven years trying to get his family to America. But with days to go before their departure, President Trump signed a travel ban that put the family's future in question.
BBC - Feb 07 22:45 GMT - more ...
What Judas snakes, snake-sniffing dogs and even hunters from around the globe have struggled to accomplish may finally be pulled off by a pair of singing snake catchers from India: solving the riddle for finding Burmese pythons in Florida's Everglades.
Miami Herald - Feb 07 06:14 GMT - more ...